The Emirates has a sophisticated banking industry, as you would expect from a major global financial center. Banks in the UAE are quick to adopt new technologies, such as blockchain and artificial intelligence. This proactive approach naturally benefits ex-pats living in the country. This is why it comes as no surprise that the Sharjah Islamic Bank increased its foreign ownership of shares to 40%.
In this article, you will learn everything about foreign ownership and the recent increase in shares. Let us observe:
An overview of the banking business in the UAE
Banking in the United Arab Emirates
Sharjah Islamic Bank
A solid financial foundation
How can Connect FZ help you?
1. An overview of the banking business in the UAE
People often refer to the Emirates as the "Switzerland of the Middle East" because it is a peaceful investment destination in a troubled neighborhood. This is largely due to the UAE's ease of banking. Indeed, a growing number of ultra-high-net-worth individuals regard the country as a haven.
According to New World Wealth and The Wealth Report, more of the world's wealthiest people may relocate their assets to the country over the next decade. Given the size of the population, many analysts believe the onshore banking sector is overcrowded.
Hence, the country has 52 local and foreign banks that are members of the UAE Banks Federation, resulting in a robust financial sector. 22 of them are national banks. The UAE Central Bank regulates new business and the adoption of new technologies, as well as monitors all banking activities in the country.
1.1. Recovery and projection are excellent
Because of their exposure to foreign account holders, banks in the UAE were severely impacted by the global financial crisis in 2008–2009. However, they have since recovered, and Moody's now rates the sector as stable due to its strong financial fundamentals. Even though they are primarily funded by deposits, UAE banks have strong liquidity buffers.
Furthermore, the government will strongly support and assist local banks. Banks in the UAE made significant profits in the first half of 2019; even though government and semi-government entities were primarily responsible for that performance.
According to central bank statistics, gross bank assets stood at AED 2.9 billion in July 2019. Hence, financial and insurance activities account for approximately 8.6 percent of the UAE's GDP in total.
UAE banks have adopted several global standards, including the International Accounting Standard, International Financial Reporting Standards, and, most recently, Basel III capital adequacy regulations. Since 2011, all account holders in the UAE have needed to have an International Bank Account (IBAN) number to conduct any local or international transactions.
1.1.1. Types of banks
Those who bank in the UAE have access to a variety of services. There are four types of banks in the country, which include both domestic and foreign financial institutions:
Banks that do business.
Investing institution.
Banks for the industry.
Islamic financial institutions.
Additionally, with us, you can learn how to open a bank account.
1.2. The UAE's currency
The UAE Dirham is legal tender in the seven constituent emirates. The term Dirham is officially abbreviated as AED; however, it is more commonly abbreviated as Dh or Dhs. Each Dirham is broken down into 100 fils.
The dirham, like other Persian Gulf currencies, has been permanently pegged to the US dollar, with an exchange rate of AED 3.67 to US$1. In other words, AED 1 = approximately US$0.272294 The UAE officially traded at AED 4.06 to €1 and 4.48 to £1 in August 2019.
The dirham was first used two years after the UAE's federation. It was first introduced on May 19, 1973, at par with the Qatar and Dubai riyals. The Qatar and Dubai riyals had circulated in all emirates except Abu Dhabi, where the dirham replaced the Bahraini dinar at 1 dinar = 10 dirhams since 1966.
Before 1966, the emirates that would eventually become the UAE used the Gulf rupee, which was issued by the Reserve Bank of India and was equivalent to the Indian rupee.
1.2.1. More details
The UAE Currency Board is in charge of issuing banknotes:
5 (brown).
10 (green).
20 (light blue).
50 (purple).
100 (pink).
200 (green/brown).
500 (navy blue).
And 1,000 (greenish-blue) Dirhams are currently available.
Coins in denominations of 25 fils, 50 fils, and AED 1 are available. Some of the larger supermarkets and stores accept US dollars and Saudi riyals as payment. So, exchange rates are likely to be unfavorable to the customer in such cases.
1.3. Cash machines and ATMs
As a trading economy, cash is easily accessible throughout the seven emirates. For instance, in 2018, there were 5,261 ATMs in the UAE; with a network that included malls, shopping arcades, community centers, and local and side streets.
When banking in the UAE, most account holders can easily withdraw cash from any ATM on the local UAE Switch network. Customers must, however, pay AED 2 per withdrawal at another bank's ATM. Plus, most of banks have an ATM network map on their website. ATMs in the UAE typically accept notes worth AED 50 and up.
2. Banking in the United Arab Emirates
The 22 licensed local banks accounted for more than 85 percent of the sector's total gross assets and 90 percent of its branch network as of April 2017. The five largest banks in the UAE account for roughly 60% of the sector's assets.
Thus, customers can manage their money and finances in Emirati banks in a variety of ways, including in-person or remotely via the internet. Almost every bank in the UAE offers internet banking, and phone banking is widely available.
Customers who prefer to interact with a live person can do so at a branch or service counters in prominent malls and other locations across the country. Banks in the UAE have a large presence and are well-positioned to serve customers.
Banking hours are 08:00 to 15:00 from Saturday to Wednesday, 08:00 to 12:00 on Thursday, and closed on Fridays like all other businesses.
2.1. Banks with a large presence in the UAE
The following are the most prominent local banks in the UAE:
2.1.1. First Abu Dhabi Bank
When the National Bank of Abu Dhabi and First Gulf Bank merged, the largest bank in terms of assets was created. It has branches all over the UAE, including the Saudi and Omani borders. Because of a partnership with Etihad Airways, some account holders can earn Etihad Airways air miles on every FAB transaction.
2.1.2. Emirates NBD
The Middle East's largest banking group has its headquarters in Dubai and currently manages 221 branches and 1,023 cash machines in the UAE and abroad. The following are some of the business segments it operates in:
Retail banking and wealth management.
Wholesale banking.
Islamic banking.
International.
And information technology and operations.
It is consistently among the first to embrace and launch innovative services such as robot assistants and a money transfer service that takes 60 seconds.
2.1.3. Mashreq
It is one of the UAE's oldest private banks, and it was founded in Dubai in 1967. This bank is part of the HSBC Group, and it has 45 domestic branches and 20 international branches. Mashreq's services include retail banking, commercial banking, investment banking, Islamic banking, brokerage, and asset management.
2.2. Islamic banking in the United Arab Emirates
The UAE's Islamic banking sector is generally of high quality, owing to its strong focus on the global Islamic economy. The country has eight Islamic banks and 23 Islamic windows; they are run by conventional banks in the UAE. These assets account for 19% of total banking sector assets.
Hence, the most important Islamic banks are:
Dubai Islamic Bank. Founded in 1975 and headquartered in Dubai, the bank serves approximately 1.7 million customers and operates 90 branches throughout the country. It has a corporate banking division, as well as real estate development, treasury, and other business divisions. It acquired Noor Bank, another Islamic financial institution in the country, in July 2019 and is now the UAE's fourth-largest bank by assets.
Abu Dhabi Islamic Bank. It was founded in 1997; plus, the Abu Dhabi-based bank has an international network that includes Egypt, Iraq, Saudi Arabia, and the United Kingdom. The bank's operations include:
Global retail and wholesale banking.
Private banking.
Real estate.
And treasury services.
2.3. International banks in the United Arab Emirates
There are a total of 26 foreign banks in the UAE. Many of these licenses were issued before the establishment of the UAE Central Bank. Seven are from the United Kingdom, France, and the United States, while the remaining foreign ownership banks are from the Middle East, North Africa, and South Asia.
Personal banking services are provided by HSBC, Citibank, Standard Chartered, Bank of Baroda, and Habib Bank AG Zurich. Others, such as Société Générale and Barclays, specialize in other areas. All must follow local regulations established by the UAE Central Bank. As such, they adhere to common operating hours, maximum fees, and safety procedures, but may have their own rules regarding minimum balances.
Foreign banks in the UAE operate 86 branches between them. This is largely because they are each limited to a maximum of eight branches. They compensate for these constraints by placing service counters in high-density areas such as popular shopping malls.
3. Sharjah Islamic Bank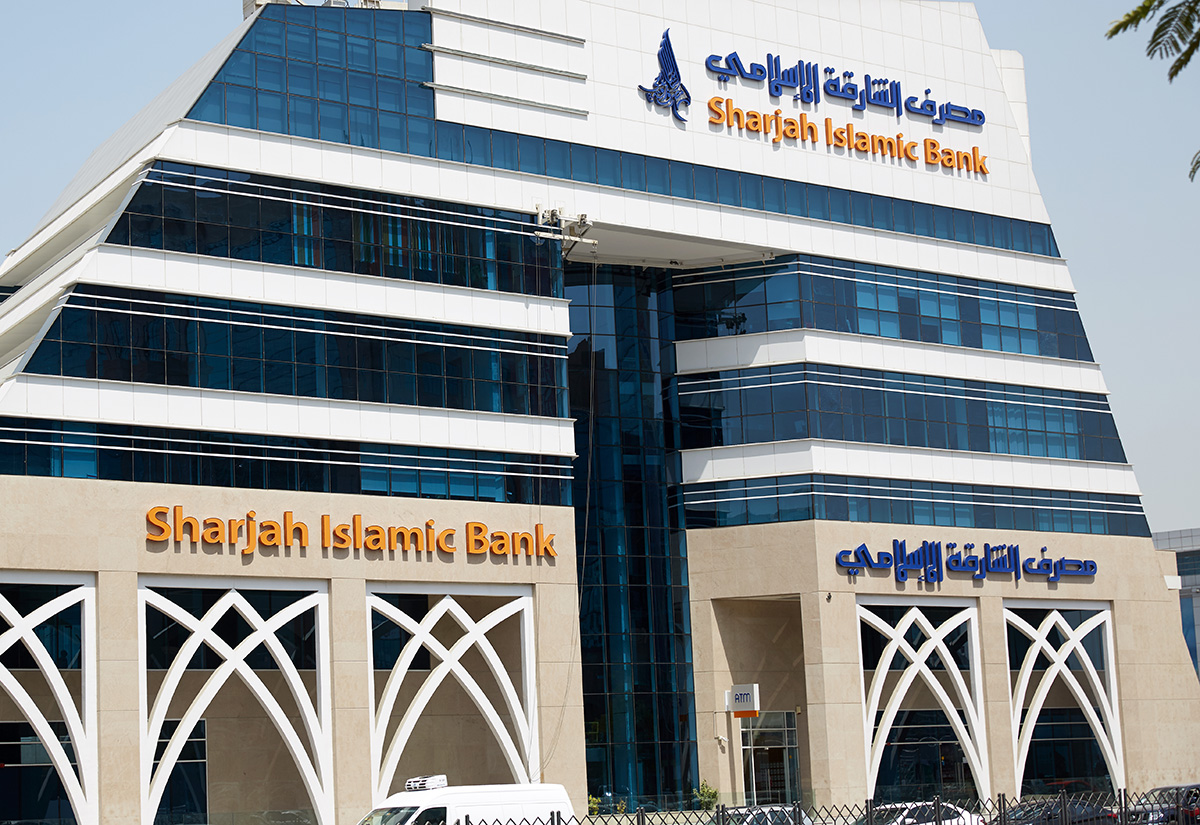 Sharjah Islamic Bank offers Shariah-compliant corporate, retail, and investment banking services. Government and Corporate, Retail, Investment and Treasury, and Hospitality, Brokerage, and Real Estate are its business segments.
The Government and Corporate segment offer a variety of Islamic financial products and services to businesses, institutions, and government departments. Individuals can get a variety of Islamic financial services from the Retail segment.
The Investment and Treasury segment primarily includes bank investment income and other money market activities. Hospitality and brokerage services are provided by the Hospitality and Brokerage segment, respectively. The company was established in January 1975 and is based in Sharjah, United Arab Emirates.
3.1. What is the good news?
Sharjah Islamic Bank (SIB) has approved increasing foreign ownership of the bank's shares to 40%; this is to provide more opportunities to international investors. Following the bank's net profits of AED 514.1 million last year, SIB shareholders recently approved the payment of 8% cash dividends for 2021 at the bank's annual general meeting.
The virtual AGM meeting was presided over by Abdul Rahman Al Owais, chairman of the SIB's board of directors; and was attended by representatives from the Securities and Commodities Authority, the Sharjah Economic Development Department, and a large number of the bank's shareholders.
According to Al Owais, the SIB performed well across all business units while maintaining its financial position. He stated that the bank's performance remained strong despite the gradual return to normalcy and partial recovery from the pandemic's consequences.
Al Owasis said that they are eager to realize their wise leadership's vision and aspirations by constructing a competitive knowledge economy based on innovation and risk management. Furthermore, they will continue to contribute to the development of a strong digital economy and the expansion of digital services by the highest standards, laying the groundwork for continued business growth in the coming years.
4. A solid financial foundation
Sharjah Islamic Bank has a strong capital base, with total shareholders' equity reaching AED 7.7 billion at the end of December 2021; this represents 14 percent of the bank's total assets, and thus the capital adequacy ratio according to Basel III norms reaches 20.84 percent.
In terms of the balance sheet, the bank's total assets increased by 2.5 percent to AED 55 billion, up from 53.6 billion in 2020; while total customer facilities remained stable at 29 billion. The increase in new customers and deposits has increased customer deposits by 14.5% to 38.5 billion, up from 33.6 billion at the end of 2020.
Due to the repayment of $500 million in the third quarter through the bank's sources, sukuk payable decreased by AED 1.8 billion to 3.7 billion at the end of the fiscal year, compared to 5.5 billion as of December 31, 2020, indicating an excellent level of liquidity.
Despite the ongoing economic impact of the pandemic and the continuation of the bank's hedging policy, net impairment provisions were 244.5 million, a 4.4% decrease from AED255.8 million the previous year.
5. How can Connect FZ help you?
Now you know a little bit more about how banking in the UAE works. The networked economy and transactional business environment of the UAE make it simple to manage your finances through an international account. Now, you know the good news is that Sharjah Islamic Bank increased its foreign ownership of shares to 40%.

Would you like to contact Connect FZ to obtain more information on increasing foreign ownership of shares to 40%? If you have any questions, call us at +971 43 316 688. You can email us too, at contact@connectfz.com. Following, you will talk to one of our representatives who will answer all your questions.
In addition, you can go to thetalentpoint.com to find great job opportunities. You can rest assured that your information is safe with us, we do not store anything we receive on contact@thetalentpoint.com.