The UAE has a variety of locations known as free zones, which are favorable for all foreign companies. And among the most popular locations, you can find Meydan and Hamriyah Free Zone. However, although both can be beneficial, it is essential to learn about their differences before making your choice.
In this article, you will learn everything you need to know about Hamriyah Free Zone and its benefits for companies. In addition, we will also talk about Meydan Free Zone, as well as the advantages it offers for foreign investors/entrepreneurs. And by learning about these free zones, you will be able to choose the one that best suits your business. Let us observe:
A guide to Hamriyah Free Zone
What are the benefits of setting up a Hamriyah Free Zone business?
How can you set up a business in Hamriyah Free Zone in Sharjah?
A guide to Meydan Free Zone
Why should you choose Meydan Free Zone?
How can you set up a business in Meydan Free Zone in Dubai?
How can Connect FZ help you set up your company in a free zone?
1. A guide to Hamriyah Free Zone
In the Sharjah emirate, you will be able to find one of the most popular UAE free zones. Hamriyah Free Zone can be your best option if you are looking forward to setting up a tax-free venture. And in this location, you can find many other advantages that will help you operate your business successfully.
Below, you will discover some of the most outstanding benefits that this free zone offers. In addition, we will briefly explain the business setup process and how to complete it.
2. What are the benefits of setting up a Hamriyah Free Zone business?
Certainly, many free zones in the UAE can be excellent options for setting up your business and achieving your business goals. But why should you consider choosing Hamriyah Free Zone? There are many reasons why this location can be the most suitable one for your business, and below we will explain them:
It is a strategically located free zone in Sharjah.
It provides a variety of trade licenses to cover your business activities.
There are many industrial activities
It offers a world-class infrastructure for operating a company comfortably and efficiently.
And also, companies can enjoy several free zone perks.
2.1. Strategic location
Sharjah is the third-largest UAE emirate, as well as the Cultural Capital of the Arab World. And Hamriyah Free Zone was strategically established in this location in 1995. Therefore, companies in this free zone can enjoy the geographical benefit that Hamriyah offers.
Besides, Hamriyah FZ is near the Gulf of Oman to the East and the Arabian Gulf to the West. And, as Sharjah is between the Far East and Europe, companies have access to key markets. And some of those markets are the Kingdom of Saudi Arabia, Iran, India, and Iraq.
2.2. Available trade licenses
On the other hand, you should know that you can apply for any of the three available licenses, which are:
Commercial license: firstly, you can find this license, which allows you to import, export, distribute, sell, and store different items. However, keep in mind that your license must specify the items you will use for your activities.
Industrial license: with this license, you can perform activities like importing raw materials for manufacturing, processing, assembly, packaging, etc. Plus, you can use local distributors/agents for goods to be sold in the UAE market.
Service license: if you are a specialist who provides services, you will need this license to perform your activities within the free zone.
2.3. A variety of industrial activities allowed
Although this free zone can be perfect for many types of businesses, it is mostly known for being home to industrial businesses. In fact, Hamriyah is the second largest industrial free zone in the country. Therefore, it has contributed a lot to boost the national economy in general.
So, if you desire to set up an industrial company in this free zone, you must determine your activities. And among the allowed activities, you can find the ones related to these sectors:
Oil and gas.
Food industry.
Logistics and transportation.
Heavy industry.
Packaging industry.
2.4. World-class infrastructure
Another advantage of setting up your business in this free zone is that you can use world-class infrastructure and facilities. For example, some of them are the following:
Cost-effective and comfortable office spaces.
Prefabricated warehouses that use international standards.
Industrial land plots (starting from 2,500 sqm).
Free car parking for companies within the free zone.
And on-site labour accommodation that includes state-of-the-art facilities and amenities.
So, during the business setup process, you can choose the facilities you need.
2.5. Other free zone benefits in Hamriyah Free Zone
Apart from the benefits we previously mentioned, this free zone also offers some general perks that all companies can enjoy. For example, these are some of the most outstanding ones:
100 percent of foreign ownership.
No corporate tax.
Zero personal income tax.
Easy access to foreign workforce at low costs.
World-class infrastructure and excellent connectivity.
Full repatriation of capital and profits.
Export and import tax exemption.
Renewable short and long-term lease options.
Easy access to UAE and GCC markets.
Special benefits related to the Value Added Tax (VAT).
3. How can you set up a business in Hamriyah Free Zone in Sharjah?
In order to set up your business in Hamriyah Free Zone, you must follow these easy steps:
Firstly, choose a company structure that best suits your activities. You can choose between FZC (Free Zone Company), FZE (Free Zone Establishment), and a branch of a local/foreign company.
Secondly, submit all required documents, including your application form and other elements.
Lastly, make the necessary payment and collect your trade license to start operating your business.
4. A guide to Meydan Free Zone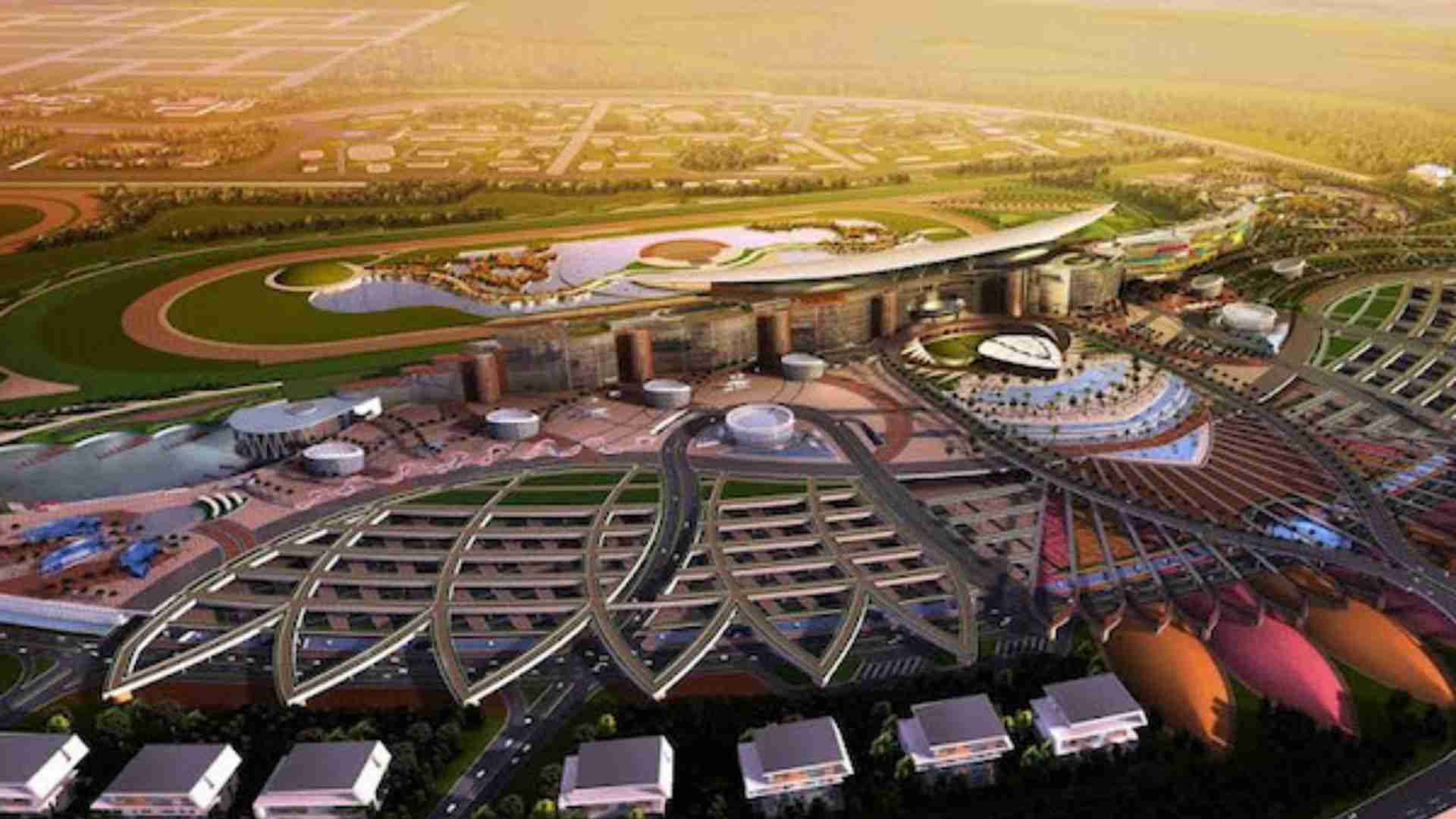 Apart from Hamriyah Free Zone, you can also choose Meydan FZ, which is located in Dubai. And whether you choose to set up a consulting or trading business, Meydan can be a favorable location for you. Moreover, in this strategically located free zone, you will get many benefits related to taxes, costs, infrastructure, licenses, and more.
Besides, the company formation process is quite simple, which means you will easily achieve your goals without spending too must time. And below, you will discover the benefits that this location offers and the steps to set up your business.
5. Why should you choose Meydan Free Zone?
In this location, free zone companies can obtain several advantages that will help them grow exponentially and without wasting time. In fact, Meydan is a popular free zone precisely because of its initiatives that make entrepreneurship accessible. It also fosters a healthy and connected ecosystem that allows innovators to create, grow, and lead while operating their businesses.
And just like many other UAE free zones, a Dubai free zone like Meydan will provide you with many benefits. All of them will boost your business growth and help you achieve your goals. So, let's take a look at them:
5.1. Strategic location
Meydan is 15 minutes away from the Dubai International Airport and Dubai Ports, and 12 minutes from Dubai's downtown. Therefore, unlike Hamriyah Free Zone, Meydan has quicker access to Dubai, which is connected to the world's largest markets.
In other words, setting up your business in this strategic location will lead to easier access to markets and ports. And among those markets, you will find GCC countries, the Middle East, India, Pakistan, Central Asia, Europe, and Africa.
5.2. Free zone benefits
Just like Hamriyah Free Zone and other locations, Meydan will also provide you with these benefits:
100 percent of foreign ownership.
Full repatriation perks on profits and financial assets.
No restrictions on capital repatriation.
Modern, world-class infrastructure. It includes flexi-desks, dedicated offices, suitable meeting rooms, and more.
No currency restrictions.
Business licenses recognized by the Ministry of Foreign Affairs (MOFA). And these licenses include bank account opening.
Tax-free policies related to corporate and personal income tax.
A wide number of business activities to choose from when setting up your business.
And low-cost business setup procedures, which start from AED 12,500.
5.3. World-class community
By establishing your free zone company in this location, you can access a vibrant community that benefits your business growth. And, through innovation and collaboration, Meydan can provide your business with the support it needs to achieve success in no time. Besides, this city also boasts a growing freehold housing community, schools, hospitals, and recreational amenities as well.
Therefore, by setting up in this location, you will have access to all these elements that will surely benefit you. Furthermore, remember that this free zone is home to many SMEs, startups, and multinationals that belong to several sectors/industries.
5.4. Paperless experience
Meydan Free Zone is also known for not requiring a lot of paperwork during the business setup process. As a matter of fact, this free zone provides a smart license application kit that reduces time and effort investment. Furthermore, the authorities in this location have also developed a convenient digital payment platform, which provides easy payment options.
In other words, by using the platform provided by the authorities, you can save time and easily carry out:
All procedures related to the business setup process.
Applications to get licenses and approvals.
License renewal procedures.
And applications to obtain and store permits.
6. How can you set up a business in Meydan Free Zone in Dubai?
Just like in Hamriyah Free Zone, you must follow a number of steps to establish your company in Meydan FZ. And the first step is determining the type of business activity that you desire to perform. After that, you can fill out your application form and submit the documents to complete the process.
Then, the next step will be registering the trade name of your business and reserving it with the pertinent authorities. In addition, make sure to meet all the requirements that the business registration and licensing process involves. Lastly, it is essential that all shareholders sign the company formation documents during the process.
7. How can Connect FZ help you set up your company in a UAE free zone?
If you have not decided on the free zone you want to set up in, we can help you choose. Connect FZ specializes in company formation in UAE free zones, and with our experience, we can provide the best services. And depending on your requirements, our experts will find the most suitable free zone for your company to ensure success.
And apart from Hamriyah and Meydan, you can also choose between a variety of free zones in Dubai. For example, these are some of them:
Although a free zone in Dubai can be a good option, you should consider other locations that can benefit you. For instance, in the following emirates, you will find several options to consider:

Would you like to start building your company in a free zone in the UAE? If you request our services, setting up a new business in the UAE will be an easy task. And we will help you choose a favorable location and provide you with the solutions you need to reach success. Therefore, feel free to call us at +971 43 316 688 or send us an email at contact@connectfz.com to learn more about our services.
On the other hand, while some foreigners are currently looking for investment opportunities in the UAE, others are looking for job opportunities. And if you are one of them, you should visit thetalentpoint.com and discover an unlimited number of available job offers. And once you have found a convenient job opportunity, you can send your application via email to contact@thetalentpoint.com along with your CV.