The Jebel Ali Free Zone was created in 1985 and has become home to some of the largest organizations in the UAE. In addition, more than 50% of total exports and 20j% of the foreign investment from Dubai are from this free zone. If you start a business in Jebel Ali Freezone, you will be able to take your business to another level.
In this article, we will make sure you understand everything about the setup process in this important UAE free zone. This zone has evolved into a vital business hub and smart business environment offering outstanding growth opportunities and market access in the UAE. Let us observe:
About Jebel Ali Free Zone
What are the business activities allowed in JAFZA?
How will JAFZA benefit your business setup?
What do you need to establish your company here?
How can you set up your business in JAFZA?
Why should you set up in Jebel Ali Free Zone?
How can we help you start a business in Jebel Ali Free Zone?
1. About Jebel Ali Free Zone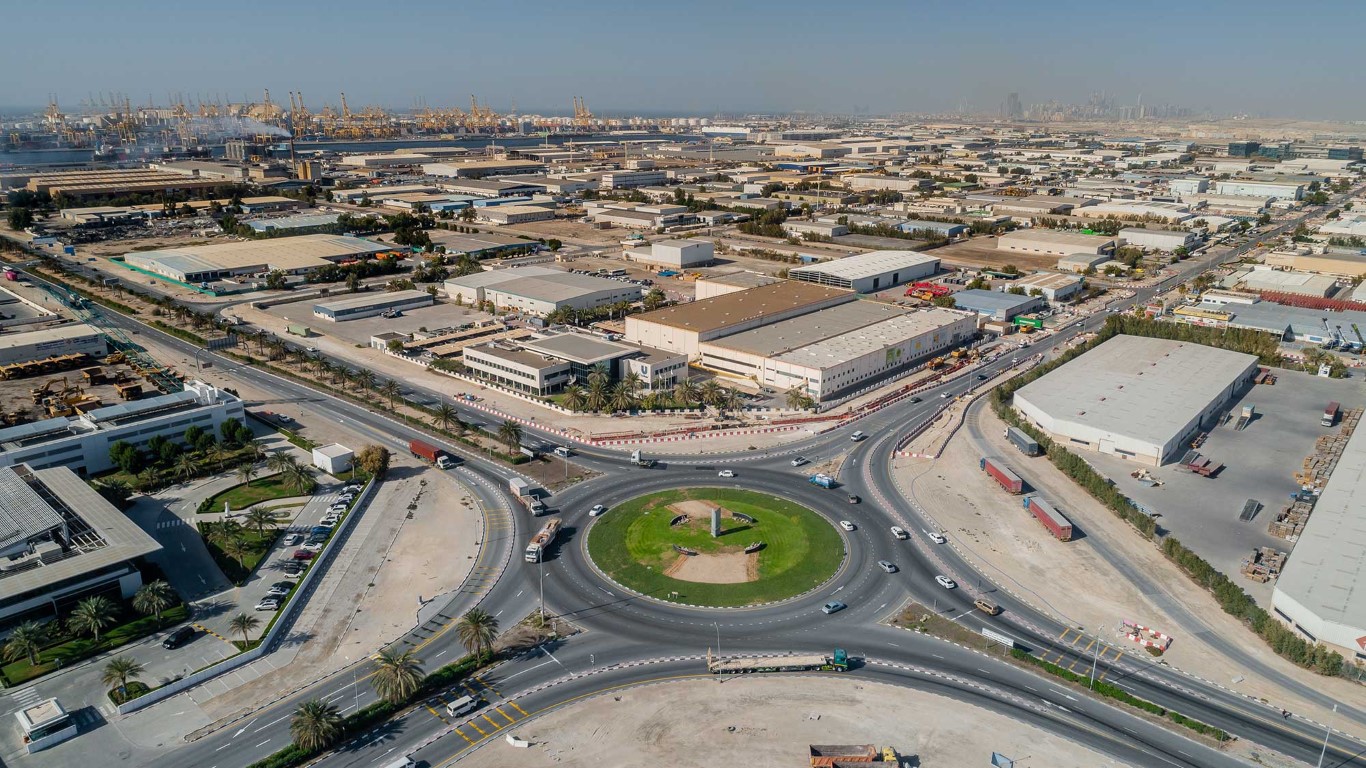 Jebel Ali Free Zone is one of the largest and oldest business networks in the UAE and the Middle East. In addition, JAFZA is located at the south-western end of Dubai. And as we mentioned earlier, it was established in 1985 with office spaces and expanded its horizons in 1990 with industrial facilities.
JAZFA was also the first free zone in Dubai to obtain an ISO certification in 1996.
If you are unsure about start a business in Jebel Ali Freezone, the excellent business environment makes the area worthwhile for your attention. That is to say, since its establishment, this free zone has had 400-fold growth in its importance over various years.
From 20 companies in 1985 to more than 8,000 businesses from more than 100 countries, it sustains more than 140,000 jobs and is attracting more than 20% of the UAE's foreign investment.
This Dubai Free Zone is one of the most sought-after with a world-class infrastructure and legacy. In the same vein, if you decide to set up your business in Jebel Ali Free Zone, you will take advantage of the AED 2.5 billion convention center complex; it is the perfect space for nurturing ties.
Along with the Jebel Ali FZ convention center, JAFZA also has the Business Towers; it is a luxurious hotel and convention center created to cater to the business community.
2. What are the business activities allowed in JAFZA?
The list of activities permitted in Jebel Ali is extensive. However, here is a list of the license categories offered:
General trading
Industrial
Service
Trading
Logistics
A business with service activities can only be registered as a subsidiary or branch office of an already existing UAE Mainland entity.
2.1. General trading license
Investors wishing to import, export, or trade with food, clothes, furniture, electronics, and other products must obtain a general trading license. Therefore, if you are trading with any specific product or good, you need to obtain the trade license for the specific activity; however, under the general license, you can trade with multifarious products.
The general trading license is valid for one year and does not require office space. After that, you must renew it by securing a physical space for your business to conduct business in and outside the country.
In short, this license allows you to import, store, and distribute all items according to the regulations and rules of JAFZA.
2.2. Trading license
This license allows the applicant in the UAE to start a particular business or trade in a particular area. In other words, the license does not allow you to carry out any other business or trade than for it was issued. Likewise, the trade license does not pass on any property owner to the license holder.
That is to say, this license allows you to distribute, import, and export items specified on the license.
2.3. Industrial license
If you are into industrial manufacturing and production and would like to start a business in Jebel Ali Freezone; it is a prerequisite to obtaining the industrial license. In addition, obtaining an industrial license eases industrial businesses and manufacturing to produce fully-manufactured or semi-manufactured products.
However, the activities under this type of license essentially indicate segregation, production, collection, packaging, etc. However, the industrial trade license requires you to have a physical warehouse in the area you want to operate.
In short, this license allows you to import raw materials, manufacture products, and goods, and export the final product to any country or the UAE.
2.4. Service license
The technical service license allows you to carry out services indicated in the license within the free zone. However, the type of solution must fit with the license of the parent organization; which is issued by the government entity of Jebel Ali in the UAE. Let us observe some of the services included in this license:
Cleaning services for companies.
Plastering and tiling.
Electrical work.
Air conditioning services.
Concrete services.
Flooring and carpentry.
Maintenance.
Plumbing.
2.5. National industrial license
This type of license is issued to manufacturing companies with a shareholding or ownership of no less than 51% with GCC nationals. In the same vein, the value added to the item in the free zone must add up to at least 40%. Further, this business license provides the holder with the same status as a local or GCC national in the UAE.
3. How will JAFZA benefit your business setup?
Foreign businesses operating in Jebel Ali Free Zone benefit from various incentives and exemptions to work in the free zone.
Among the incentives that you will take advantage of are:
Full ownership of your business.
Easy company formation: the business formation process is really easy, fast, and straightforward. The only requirement is to decide what type of business you want to start. Therefore, once the company structure is decided; you can start working in a matter of days after completing the required documentation.
Multiple visas without having an office space: one of the most important reasons why entrepreneurs decide to start a business in Jebel Ali Freezone is that they obtain 3 permits without an office space.
100% repatriation of profits and capital: this leads to a streamlined business registration
No minimum share capital for setting up a business.
Easy to sponsor dependents.
The shareholders' liability is limited to the capital invested in the organization.
There are no personal or corporate taxes on income.
There are no currency restrictions
Another strategic advantage of JAFZA is its beneficial location. That is to say, it has one of the most advanced warehouse facilities as well as one of the most developed ports in the region.
In addition, the extensive transport infrastructure makes Jebel Ali a good choice for large organizations that trade regularly with other countries.; offering fast connections to shipments from Africa, Asia, Europe, and elsewhere.
4. What do you need to establish your company here?
The company formation process in Jebel Ali Free Zone is streamlined, especially if you work with us. However, here are some requirements you must know before starting:
A free zone company in Jebel Ali requires from 2 to 5 shareholders.
Free zone establishments require one shareholder.
A branch office or a subsidiary for a foreign organization wishing to expand to Dubai.
4.1. Required documentation to incorporate a business in in JAFZA
The Jebel Ali Freezone Authority is the government body in charge of authorizing the incorporation of businesses in the free zone. However, the documentation is relatively simple and it depends on your selection for the business structure. Here are some of the documents which all businesses must provide:
Safety and environmental health application.
Application form for company setup in JAFZA.
Managers, secretaries, and shareholders' passport copies.
Description of your business activities.
The organization's article of association.
5. How can you set up your business in JAFZA?
To start a business in Jebel Ali Freezone and enjoy all the benefits it offers; you must know this process only takes 5 steps.
5.1. Choose your business activity
The list of business activities where you can choose from is massive and you can choose multiple business activities under one license. In addition, these business activities will allow you to decide both the structure of your business and the cost of your application.
5.2. Determine your business name
Determining your business name is a complex process not only in the UAE but anywhere in the world. The United Arab Emirates has certain naming regulations you must follow if you want to incorporate your business into Jebel Ali; this is an activity that you need to solve as early as possible in the process.
Here are some of the regulations you must pay attention to when choosing your organization's trade name:
It cannot contain religious references or references to known organizations such as "FBI" or "mafia".
It cannot contain offensive language.
However, there are other things you must have in mind in this step; we will assist you to determine a compliant name while checking if it is available.
5.3. Finish the paperwork and submit the application
To set up your business in Jebel Ali, you must collect the standard documentation we mentioned earlier such as application forms, passport copies, and others. In addition, you may also need to provide a business plan. Further, it is a common practice to partner with a business incorporation specialist like us.
At Connect FZ, we will ensure everything is set before submitting the application; this way you will avoid time-wasting delays.
5.4. License notification and bank account opening
As soon as the Dubai Department of Economic Development approves your application you will receive an application; this way you can collect your documents and start your business activity. After that, you can open a bank account and start trading.
5.5. Visa processing
The final step in the incorporation process is immigration and visa processing. At Connect FZ, we also take care of it on your behalf; helping you at all times and working with the government entities.
6. Why should you set up in Jebel Ali Free Zone?
Foreign nationals cannot own companies registered outside Dubai free zones. In the same vein, 51% of ownership by a UAE or GCC national and 49% of ownership by you is compulsory. This is one of the reasons why investors and entrepreneurs decide to start a business in Jebel Ali Freezone.
Apart from that, there are several benefits and advantages for new companies expanding to the UAE. The massive spectrum of lucrative encouragements and opportunities make the UAE free zones popular for setting up a business. Moreover, here are some of the reasons why you should consider setting up a business in Jebel Ali:
6.1. Confidentiality
Establishing a free zone business in Jebel Ali allows you to enjoy a high privacy level adopted by the UAE government about companies and their owners, directors, and business activities.
6.2. Registered office and bank account
Free zone businesses can have a registered office in the emirate of their preference when setting up their business. Further, you can also open a corporate bank account for your business.
6.3. Broad range of activities and licenses
A company in Jebel Ali can engage in several business activities under various types of licenses such as we mentioned previously. However, free zone companies cannot engage in the insurance area.
You will obtain diverse advantages if you expand to the UAE market and start a business in Jebel Ali Freezone. For instance, you will obtain business-friendly policies, lower incorporation overheads, and hassle-free administration. And if you are looking for an outstanding partner, we are here to help you.
7. How can we help you start a business in Jebel Ali Free Zone?
When you establish a company in a new market it requires local knowledge available for your business. In the era of startup and entrepreneurship, it is necessary to have a streamlined incorporation process. Further, the Jebel Ali Free Zone has the best solutions you need, so you can set up your business in the best environment.
At Connect Free Zone, we know that setting up a business may turn into an overwhelming process; especially if you are on your own. This is why we work side-by-side with our clients to guarantee successful outcomes.

Would you like to receive our assistance to start a business in a Free Zone? If you have questions or want us to start helping you in your incorporation process; you can call us at +971 43 316 688 or email us via contact@connectfz.com.
If you would like to access the most incredible employment offers for you and improve your career, you can go to thetalentpoint.com. If you would like to apply for a position in our agency, submit your CV! We do not store any resumes you send us through contact@thetalentpoint.com