One of the reasons why Dubai is an attractive place for doing business is due to the business opportunities. Both local and foreign investors can find plenty of business opportunities in Dubai regardless of the industry they choose. Therefore, choosing this emirate as your business location can be a profitable idea for you.
In this article, you'll learn about some of the most profitable business opportunities that you can find in Dubai. Similarly, here we will provide you with some tips to follow when setting up your company in this city. Besides, you will find more relevant information about the business setup process. Let's observe:
Why should you start a business in Dubai, UAE?
What are the most profitable business ideas that you can choose in Dubai?
E-commerce.
Advertising.
Food trading.
Logistics.
Information technology.
How can you

complete the business setup process in Dubai

?
How can Connectfz help you set up your company in this emirate?
1. Why should you start a business in Dubai, UAE?
If you want to become an investor or entrepreneur, it is highly suggestible to start in a favorable location. In the UAE, there are 7 emirates and each of them has plenty of beneficial locations to start a business. However, the most popular and favorable emirate is Dubai, and it offers many options to choose from.
Due to the benefits it offers, there are countless business opportunities in Dubai that you can seize. Besides, there will be many affordable tools that will fit your requirements, including locations, licenses, permits, visas, and more. Also, in this emirate, you can have access to many potential consumers, although you should target your audience first.
On the other hand, Dubai has a thriving economy that grows more and more every day. Therefore, it's the most successful city across the UAE and one of the main trading hubs in the Middle East. Besides, there's a favorable environment that is regulated by flexible rules, which also creates a stable social and political climate.
1.1. What business locations can you find available in Dubai?
One of the advantages of choosing Dubai is that you can choose between many different business locations. For example, you can choose between the three main options; a free zone, the mainland, and offshore. However, you should learn about each option to see which one fits your business needs; otherwise, your company won't succeed.
Each jurisdiction has its own benefits and regulations, but the most popular option is selecting a free zone. You can find many available free zones in Dubai, and some of them are dedicated to specific industries. Some of the free zones in which you can find many business opportunities in Dubai are the following ones:
Dubai Airport Free Zone Authority (DAFZA).
Dubai Multi Commodities Centre Free Zone (DMCC).
Jebel Ali Free Zone Authority (JAFZA).
Dubai Silicon Oasis Authority (DSOA).
International Free Zone Authority (IFZA).
Dubai South Free Zone (DWC).
You are free to set up a Free Zone Company or Free Zone Establishment in any of these locations. On the other hand, if you choose to set up in Dubai Mainland, your company formation will be different. Choosing this option means setting up an LLC structure (Limited Liability Company), which requires a local sponsor or agent.
And lastly, you can also choose to set up an offshore company in Dubai and obtain different advantages. For instance, this type of company formation allows you to carry out your business activity outside the country. Besides, it also enjoys several types of tax exemptions, including VAT taxation, capitals gains, and more.
Here you can learn about the free zone visa in the UAE and how to apply for it.
2. What are the most profitable business ideas that you can choose in Dubai?
Deciding what business to start in Dubai is the first step that all investors must take to be successful. However, it is essential to be aware of the many local business opportunities that are available. We recommend you to study and analyze the market and see which industry or business activity is in demand.
Currently, you can find several thriving sectors in Dubai, including the e-commerce industry, food trading sector, information technology, etc. Besides, many of these industries have been blooming lately due to certain reasons, like the COVID-19 pandemic. Therefore, it is possible to find countless opportunities to invest in any activity related to these sectors.
Some other profitable business ideas that you can take into consideration are the following ones:
Logistics services.
Advertising activities.
Bookkeeping activities.
Recruitment agency.
Import and export.
Real estate agency.
Retail industry.
Travel and tourism.
Healthcare sector.
Handyman services.
Beauty salon.
Restaurants or coffee shops.
Cleaning services.
Although there are many other business activities that you can select, these are the most popular ones. Nonetheless, you should always make sure to choose a business activity that you consider your ideal business. Besides, it would be useful to request consultancy services from a professional to obtain the guidance you need.
Here you can learn about some other small business ideas you can consider to set up a company in Dubai.
3. E-commerce.
During the last few years, the e-commerce sector has become a successful industry at a global rate. And it is probably the best business to start in Dubai during these current times. Due to the COVID-19 pandemic, this industry has experienced phenomenal growth and it gets even more popular among investors.
Besides, it is a flexible business and does not require a huge investment to start working on it. Moreover, it is also a very flexible option for consumers to purchase products and goods online. And also, all investors can reach both the national and international market by operating an e-commerce business.
A laptop with an efficient internet connection and a product to sell is all you need to start your business. Furthermore, it is also possible to operate your business remotely, which is another advantage for you.
Here you can learn about the e-commerce industry in the UAE and reasons to set up an e-commerce business.
4. Advertising.
Some other profitable business opportunities in Dubai are related to the advertising industry and its activities. One thing that should always take into consideration is the growth of this industry in the UAE. In fact, this country is among the top countries for advertising spending in the GCC (Gulf Cooperation Council).
Besides considering the place where you want to start, you should also decide your type of agency. Not to mention that you must also determine the type of services that you want to offer. For instance, you can create print adverts or produce viral videos on any online platform, like YouTube.
Remember that you need to get involved with the advertising area you desire for your business. For example, it could be brand development, social selling, consultancy and media buying, etc.
5. Food trading.
Among other business opportunities in Dubai, you can also build your own food trading business. Since this emirate handles over 70% of the UAE food imports, establishing this kind of business is profitable. Also, Dubai allows food trading investors to trade and re-export to over 160 countries, helping them to grow.
On the other hand, your target consumers could be different according to the jurisdiction you choose. For example, if you choose to set up in a free zone, it is possible to engage in B2B trade. However, if you choose Dubai mainland, your trading license will allow you to trade everywhere.
As a tip, you should determine a specific area and apply for the necessary licenses. Therefore, creating a clear business plan is essential.
Here you can learn about the process to obtain approval from the National Media Council for a media business.
6. Logistics.
Everything related to logistics is also part of the best business opportunities in Dubai available. This type of industry can be favorable for many elements, including the world-class infrastructure of the emirate. Besides, it is also beneficial for Dubai's strategic location between the West and Asia, and for many other important elements.
Furthermore, since Dubai is a vital city considered as a great tourist destination, the logistics industry becomes important too. For instance, investors who operate a logistics company can provide opportunities for transportation companies and tourist-based travel. Not to mention that this industry is also a pillar of the UAE's economy.
7. Information technology.
The information technology business is also considered one of the greatest business opportunities in Dubai. The main reason is that Dubai decided to become one of the smartest cities in the world. Nonetheless, it is already a very popular international business hub for tech-based companies and it attracts more investors every month.
Besides, there are several free zones in this emirate that are dedicated to this industry, like Dubai Internet City. Locations like these are very beneficial for investors who want to set up tech-based businesses. Therefore, if you want to establish this kind of business, make sure to choose a favorable zone.
Another recommendable free zone in which you can set up your business is in Dubai Silicon Oasis Authority. Here you can also find the perfect conditions to boost your tech-based company in no time.
Here you can learn about the best free zone business licenses in Dubai and how to apply for them.
8. How can you complete the business setup process in Dubai?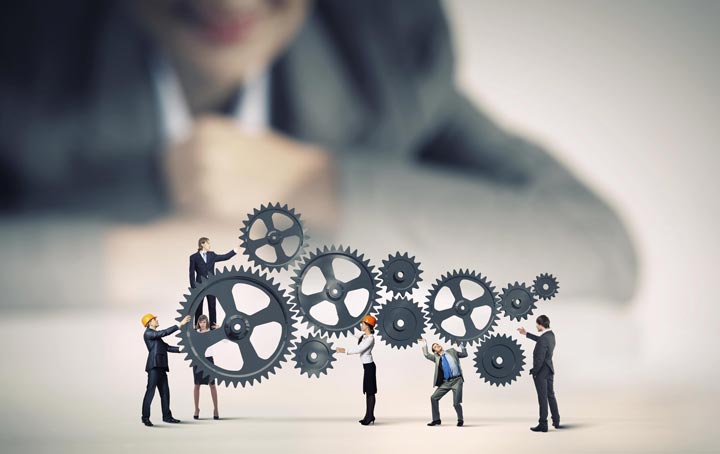 In order to build your company in Dubai, you must take some simple steps. Let's take a look at them:
Firstly, you must choose your business activities and location. When choosing your location, remember that you can choose between free zones, mainland, and offshore.
Secondly, you need to register your company's trading name and get approval for company formation.
Thirdly, make sure to obtain all required approvals for opening your business and start operating it. However, these approvals can vary depending on the kind of business you desire to set up.
After obtaining the necessary approvals, you must submit all required documents. Similarly, these will vary according to your kind of business. Besides, they may also vary depending on other details, like the jurisdiction and type of company formation. You must submit them to the concerned authorities of your business location.
Then, you have to wait until your business license is issued by the authorities. Once it is ready, you will receive it and you will be able to start your operations.
Here you can learn about the cost of setting up a successful company in the United Arab Emirates.
9. How can Connectfz help you set up your company in this emirate?
Regardless of the business activities you choose, you can have a professional business setup partner by your side. If you have Connectfz as your partner, you will be able to complete the setup process easily and quickly. Besides, you will have the guidance and advice that you need to make your company successful.
Moreover, our team will help you make vital decisions that will lead your company to success. For example, we will help you determine which free zone is the most suitable for your business. Similarly, choosing your business license, facilities, and support services will become easy tasks too, and won't need to worry.
On the other hand, we provide other useful services to help your business grow more efficiently in time. For instance, our staff outsourcing and recruitment services can help you find the employees that your business needs. Some of the other available services are UAE market entry, tax advisory, HR consultancy, and many others.
Would you like to contact Connectfz to obtain more information about the best business ideas for investors and entrepreneurs in Dubai, UAE? If you have any questions, call us on +97143316688. You can email us at info@connectfz.ae, and you will talk to one of our representatives who will answer your questions.