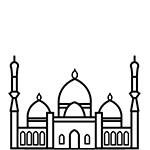 Khalifa Industrial Zone Abu Dhabi (KIZAD)
This free zone known under the acronyms of KIZAD was launched in 2012 and has become the competitor of the Jebel Ali Free Zone (JAFZA). KIZAD is an extensive industrial park with about 417 km2, and it is strategically located between Dubai and Abu Dhabi. It is linked to the Khalifa Port; one of the most advanced deep-sea ports in the world The relation it has to this famous port allows it to assume a major role in the transportation sector. If you plan to set up your company in KIZAD, you have chosen the right place and you will be able to get many advantages in it.
About Listing
KIZAD delivers unique advantages – extensive size, world-class infrastructure, free zone and non-free zone solutions, dedicated investor support, tax-free environment with competitive operating costs and strategic location with access to regional and international markets. These contribute to making KIZAD one of the world's foremost port-integrated industrial zones and a leading hub for manufacturing, logistics and trade across diverse sectors.
Packages
1 Year License (1 Visa eligibility): 9,450
E-channel: 2,200
Deposit: Waived (usually 5000)
Visa (inside UAE): 3,700
Visa (outside the UAE): 5,200
All visas are the same (no investor/employee difference)
This Listing has no listing features! Please add listing features to this specify listing.