There are many reasons why a business would like to change its name. That is to say, it happens when the organization chooses to adopt a new trade name, different from its already registered. Similarly, the DED establishes some simple processes to ease any modification when you are in the process of changing a company legal name in the UAE.
In this article, we will make sure you understand everything about any variation in your business trade name and how it could influence your business. Similarly, here you will understand all the reasons why businesses change their name in the UAE. On the other hand, you will learn what documents you need in order to start the process. Let's observe:
Changing a company legal name in the UAE
How do I choose a good name for my company?
Should I change my business legal name?
When should I change my company legal name?
How to change my business legal name in the UAE?
How can Connect Freelance assist you to change your business name in the UAE?
      1. Changing a company legal name in UAE
Companies change for several reasons; some of them are strategic, and others are more practical in nature. Likewise, it does not matter your motivations, when you change your business legal name, there are some positive consequences. And like all important business decisions, you can start comparing the outcomes before making the decision to change your company name.
Let's take a look at the ways to choose a good name for your business. In addition, we will observe the positive things, so you are prepared for this type of process.
Learn More About : E-Trader License in Dubai 
      2. How do I choose a good name for my company?
If you are just starting a company, you can always take your time choosing the perfect name that suits what you offer. On the other hand, if you are in the process of changing your business legal name, it can be a little more complex.
For instance, you should consider why you want to choose a new company name. However, here are some common reasons why businesses change names and begin a rebranding process:
They are offering new services o products, and their already existing company name is limiting.
They are sharing a name with another local company, and their clients are often confused.
Their business name has been involved in a scandal, and they are avoiding bad press from now on.
They think their existing business name is not good enough, and they would want to rebrand it to a more unique name.
Regardless of your business rebranding decision, you should take the time to choose the best possible name this time. In the same vein, many business owners use an online business name generator in order to get started. On the other hand, they poll their existing clients to see if they have any ideas.
However, before you make the decision of changing the name official; you can consider the pros below.
      3. Should I change my business legal name?
3.1. Your new business name could be aligned with your company
Almost all business owners do not know what their future brand will look like when they start; so, they select a name for more practical reasons. Further, as your company evolves through time, you can be more deliberate with your branding.
That is to say, that includes changing your business name, especially if you have a generic or nondescript name. Thus, choosing a name aligned with your brand and is simple to remember will have an impact on your clients. In addition, it will assist you to stand out among your different competitors.
3.2. You can easily target new customers with your new name
It is common for some businesses to experience an identity crisis over the years. In the same vein, when this happens, many business owners tend to reinvent themselves with rebranding. For instance, you can realize you are becoming popular with a market chunk you never planned to target.
Thus, renaming your business allows you to redefine your brand and target a new or expanded clientele. Certainly, when you do this, you obtain many long-term benefits for your business.
3.3. You can strengthen your expertise
When you start an official company, everything related to it is a learning experience. This is usually the case when you are in the process of choosing a new name for your business. When you are starting you may have selected a name that was massively descriptive, or maybe the name you chose was not descriptive enough; thus, causing your customers to be confused.
Once you are very confident in your business's services and products, and who your target client is; you are able to choose a more appropriate business name.
3.4. Rebranding could be complicated
Certainly, it is easy to miscalculate the effort and valuable time it takes to successfully rebrand your company. For instance, you must notify the government entity in charge and the local government and tell them you are operating with a new name. However, working with Connect Freelance we take care of the renaming process on your behalf.
In addition, we assist you in taking care of everything that features your old business name, such as:
Business cards.
Company mail addresses.
Your website.
Business licenses and permits.
Social media handles.
Likewise, when you update your systems and order new materials it can be expensive and set you back a few weeks or months. Similarly, before you change your name, we identify the affected areas and develop a clear strategy. We understand that even a little mistake can have massive implications.
3.5. Rebranding could confuse your clients
It takes valuable time to build your reputation as a company and obtain recognition from your target clients. This is why changing a company legal name in the UAE may confuse your existing clients and undo the progress. However, if you clearly communicate your company decided to rebrand, not all your customer target base may hear the news.
Read More About : Procedure to get a general Trading License in Dubai 
      4. When should I change my company legal name?
Certainly, one of the most famous modifications in business names happened to Starbucks. Back in the day, the company name was "Starbucks Coffee"; after that, they eliminated the word "coffee". This is because their management decided to start selling baked goods and other items.
The next reason why a business may change its name is exactly the opposite of the reason we just told you. This usually happens when the name is too lengthy. For example, "Scott Building Materials and Construction Gear General LLC" is a long business name; however, it is understandable for those wanting to know what the company does.
In addition, it is easy to understand what it goes, but the clients will never remember its full name. That is to say, from the beginning you should think of an easily recognizable name, easy to refer a friend, and easy to remember too. In that case, "S-Materials", would be enough.
In other words, you can also consider changing a company legal name in the UAE when it is too general; for instance, Alex Photography or Crypto Consulting. Further, if I google these names, hundreds of non-relevant search results will appear with links to several websites. Therefore, most of the search results will be relevant, but they will have nothing to do with the intended name.
That is to say, when thinking of a name, make it more unique and defined.
On the other hand, the process will absolutely depend on the Emirate of registration, in addition to the company type. Similarly, businesses constantly grow and change over time; and there are some adaptable names to survive the shift. There are others that don't. And when a business outgrows its name; the company administration must start to think of another name.
      5. How to change my business legal name in the UAE?
Article 12 of the Federal Law of 2015 establishes that a business may modify its name to another name and such modification will not affect its obligations or rights; or any additional legal proceedings initiated against or by the company. Thus, although businesses are not required to change the contracts entered into by the organization if the name has changed, you may want to consider informing the involved parties in the arrangements.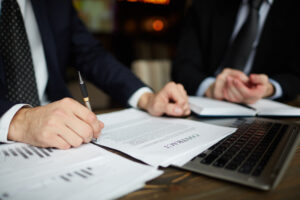 Get the main approval from the DED
You need to obtain approval from the Department of Economic Development about changing a company legal name in the UAE. Let's observe the required documents:
Licensing and registration application.
A valid proof of the reserved trade name.
Original Certificate of registration in the Commercial Register in the UAE and the original business license.
Approval by the Ministry of Economy; applies for public shareholding organizations and branches of foreign businesses registered in the country.
Approved board resolution to change the trade name for subsidiaries of foreign organizations that are not registered with the Ministry of Economy.
Copy of commercial registration for the subsidiary of UAE company, subsidiary of a free zone business, subsidiary of GCC Company, and for the subsidiary of the foreign business (if applies to a professional license).
Issuing the amended license
Revision of the MOA (Memorandum of Association) in regards to the trade name modification (and all corporate entities of businesses such as simple limited partnership, civil company, LLC, general partnership, and private shareholding excepting branches of foreign businesses.
Let's observe the required documents:
Original Certificate of Incorporation.
Board resolution about the modification of the trade name (Attested and Notarized at a level of a UAE embassy).
Undertaking to handle any liability on the previous name from the business.
Advertisement in 2 Local UAE newspapers sharing the name change notice in both English and Arabic.
This seems more straightforward than it is; collecting all the required documents and submitting them to the DED could be complex to anyone wanting to focus on their business. However, in Connect Freelance we take care of this process from the beginning to the end.
After 14 days have passed, the registration entity will update its register, issue the amended license, memorandum and articles of association, and other corporate documents related to your previous trade name. In addition, the registration authorities issue a certificate of the name change. And as soon as this process is finished; you can collect all corporate documents and continue operating with your new name.
The possibility to apply for and later amend the operating name varies in all Emirates and from one free zone to the other. Sometimes you will have the opportunity of choosing the legal name only, while other registration authorities allow both, an operating name and a legal name.
      6. How can Connect Free zone assist you to change your business name in the UAE?
We are the best option when it comes to business setup services; working with us you will find discounts, packages, and standard pricing for the greatest and popular free zones across the UAE. In addition, we offer your business the opportunity to be sponsored and set up in Mainland Dubai.
In Connect Free Zone we have more than 22 years of experience working with all sized businesses across the UAE; that helped us to obtain the experience we need to advise and guide you to achieve your organization's goals and set up a business in the country.
We are here to assist you to find the perfect destination, making sure you take advantage of all the options each free zone can offer you. That is to say, we compare free zones facilities, locations, regulations, and rules in regards to your business' services and objectives.
Would you like Connect Free zone to start assisting you with changing a company legal name in the UAE?
If you have additional questions or if you want us to start assisting you in the setup process in any of UAE free zones; you can call us at +971 4331 6688. Or if you prefer, you can email us via contact@connectfz.com.
And if you would like to submit your resume or CV; please enter to thetalentpoint.com. Most importantly, CVs and resumes sent to contact@thetalentpoint.com will not be stored.