The UAE has become the greatest source in the Middle East and worldwide for investor-friendly policies. That is to say, with aims to provide all investors and entrepreneurs with space to grow, nourish, and establish their companies; the authorities of the city have created a simple process for a home business license in Dubai.
In this article, we will make sure you understand everything about home business licenses in Dubai and why they are so innovative. On the other hand, you will understand the step-by-step process to issue it. In addition, we will show you the types of home-based businesses in Dubai and the UAE. Let's observe:
What are the types of home-based businesses in the UAE?
Positives and cons of this type of business
Legal requirements of home-based businesses in Dubai
What are the criteria for a trade license registration?
Applying for the trade License
How can Connect Free Zone assist you to start your home-based business in Dubai?
      1. What are the types of home-based businesses in the UAE?
If you do not have enough funds or you just want to operate your own business from home; there are several opportunities if you want to explore them. Therefore, here are some options you can follow:
      1.1. Tutor/Teacher
Tutoring is a popular area for many individuals wishing to earn money without investing. In addition, this is a great option if you are good in any area. In the same vein, due to Covid-19, the recent revolution in trends, and changes in the way we work; many teachers are using online teaching services such as Zoom to teach children.
Further, you can offer your services and potentially reach children across the globe.
      1.2. Social media influencer
The rise of Tik Tok and Instagram paved the way for many individuals to actively become social media influencers and make a living. Certainly, being an influencer became the standard job activity for many people and work 7 to10 hours like any other job. In this area, you can promote content for several businesses and brands and at the same time earn money.
On the other hand, you need a large following number to take the rewards up to the max.
      1.3. Videoblogging
Another good option is to start a video blogging channel focusing on unboxing thins. Similarly, there are several YouTube channels making tons of money with this practice. In the same vein, some of them review tech products; while others do various compilations in several fields such as:
Movies.
Actors.
Games.
Football players, etc.
There is a massive variety and you can take inspiration from others and start something similar.
      1.4. Selling through e-commerce
Entrepreneurs are making good money by creating e-commerce boutiques. And like many other areas on this list, you have a lot of variety to choose from. That is to say, you can create a general or a niche store depending on your ability to source the products. From tech products to handcrafted goods; you can sell everything.
In other words, if you have the right aptitude for doing inventory, managing orders, and handling the sourcing of the products this will be a highly profitable business for you.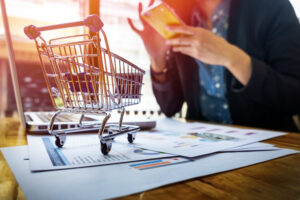 Dropshipping is a popular practice for e-commerce businesses; learn how to start this type of business.
      1.5. Web development/Graphic designing
A profitable skill is perhaps the best way to earn money online. For instance, services such as Freelancer and Fiverr; connect you with individuals seeking different things. Thus, if you are good at web development or graphic design then this is the best way for you. In addition, currently, there is a great demand in these 2 areas.
And by completing projects, you can improve your profile; allowing you to work on even more projects in the future. Therefore, you can earn a lot of money along the way.
      1.6. Freelancing
At this main idea, freelancing is a very profitable and simple business area. And as we mentioned earlier in this article, services like Connectfreelancer will connect you with your potential clients and sell what you are offering.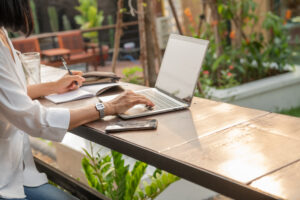 If you want to keep learning, here is our guide for self-employed individuals in the UAE.
For instance, you can do photoshop projects, write content, do music editing, development-related projects, and so many more. Above all, freelancing offers you a variety of areas to choose from.
      2. Positives and cons of this type of business
Starting a business on your own can sometimes be a complex and tedious process. But certainly, it is always crucial to compare the pros and cons before making the decision to start; or not, this task.
When we discuss the positive areas of a home business; there is a home business license in Dubai. But other than that, there are not many overheads involved. Firstly:
You will not need to pay rent for your office.
In addition, when you are working from home, there are no travel costs involved to get to your workplace. In order to legally start this task; a good thing you can start obtaining is a trade license suitable to work from home and conduct your business.
Starting a business from home in the UAE grants you the benefit of having an investor-friendly environment. That is to say, the government of the country is always committed to supporting and encouraging start-ups and small businesses; they do this to improve the economy of the UAE in the long run.
You must properly register your business so you avoid compliance issues; learn our step-by-step guide.
For example, there are several online marketplaces starting right now that focus on SMEs and home-based businesses. And what you only need is a home business license in Dubai. Therefore, this proves that the UAE's culture is evolving and Dubai is the first in adopting these changes.
When it comes to the negative parts of starting a home-based business in Dubai; there could be a couple of them. For instance, if you are running a business that at its core, requires you to meet several clients; meeting them at your home is not the best idea. Further, some organizations rather work with vendors working from formal business premises; though this is increasingly uncommon.
      3. Legal requirements of home-based businesses in Dubai
If you decide to create a company to operate your business from home; the process can be simple, especially if you partner with us. In the same vein, we complete our process with the focus to provide simplicity to our partners because not all the applicants are business-related individuals.
Similarly, here is a list of what you need:
Trade name registration.
A valid establishment card from the FAIC (Federal Authority for Identity and Citizenship).
Capacity to hire workers, you will have up to 3 work permits available.
Membership numbers in both the Ministry of Human Resources and Emiratization (MOHRE) as well as the Chamber of Commerce.
Renewal of trade/commercial license for more than a thousand commercial activities.
A valid home business license in Dubai.
The DED (Department of Economic Development) is the government body in charge of issuing the trade license. Thus, it allows you to run your small home-based business or SMEs. In addition, with the general license, you can incorporate business activities and startups that operate in social networking sites or online within the DED's database.
However, there are some benefits, apart from being allowed to run your business activity. Let's observe:
You obtain benefits from bank entities.
It provides consultation to start an economic activity.
You acquire a "Customer Client Code", this is provided by Dubai Customs and smooths importing or exporting activities.
You obtain an establishment card, allowing you to hire 3 workers.
The applicant gets temporary employment services.
You can participate in conferences, training workshops, and exhibitions.
Holders obtain the Dubai Chairman membership for commercial activities.
You get to display your products at the customer points of sale of Dubai Economy Partners.
And if you prefer, Dubai Economy partners will also provide you with options for a workspace.
      4. What are the criteria for a trade license registration?
Applying for a home business license in Dubai is crucial for running a home business. But, applying for this type of license is not always easy, especially if you do it by yourself. Similarly, you must fulfill some requirements for obtaining a DED trade license. Here is a list:
Entrepreneurs are shifting the way we live, learn about 7 reasons to be one in the UAE.
The owner of the project must be of 21 years of age at least.
Start-ups or projects must exist in Dubai.
This type of license is issued only for residential areas.
The project owner must have a valid Emirates ID.
In addition, he/she can have more than one license.
DED home business license is valid only for one year and is valid upon expiration.
The holder can have 10 activities per license within the same description area.
The economic activity, social media accounts, and trade name can be modified as requested.
Not every business will require you to have a home business trade license in Dubai. But there are some options you can select and not apply for a trade license.
      5. Applying for the trade License
This type of license requires applicants to pay the registration fee beforehand. In addition, applicants must renew their license annually as well. On the other hand, the DED has some tough requirements for the trade name license. For example, words such as 'God', 'Lord', or 'Allah are strictly forbidden.
In the same vein, you must consult the government authorities in charge before completing your name. However, in Connect Free Zone we take care of this process from beginning to end on your behalf so you can focus on your home-based business.
Further, an already reserved trade name for a similar work activity as yours is still not eligible. In the same vein, we must mention that the trade name should not involve the name of an individual. On the other hand, it can have the name of the ownership/partner of the license.
The name is perhaps the main identity of a business; learn about everything you should know when changing it.
In other words, it is strictly forbidden that the name contains any discrimination or any terms associated with profanity. Moreover, the DED has implemented these restrictions in order to ensure the safety of business; and free from wrongdoings in the long run. In short, we will contact the relevant activities before completing the trade name because you may not be aware of other restrictions.
      6. How can Connect Free Zone assist you to start your home-based business in Dubai?
In Connect Free Zone care a lot about our partners. That is to say, we understand that starting a remote business can be overwhelming sometimes. Thus, we are here to offer you our different location prices, discounts, and packages when you are starting a business in the UAE. Similarly, you can start working remotely, or in any of Dubai's Free zones or the Mainland.
In addition, we can sponsor your business, this way you can start working hassle-free in Mainland Dubai. Further, we have more than 20 years of experience working with all types of businesses across all sectors in this beautiful country; which assisted us to get the vast experience we need to assist your business in all areas.
In the same vein, we will make sure you find the most suitable business destination. On the other hand, we make sure you get the benefits of all jurisdictions of the UAE. Thus, we compare locations, rules, regulations, and free zones regarding your business goals.
Would you like Connect Free zone to help with your home business license in Dubai?
If this article encouraged you to start working with us or if you have additional inquiries about home-based businesses in the country; you can always call us via +971 4331 6688. Or if you want, you can send us an email via contact@connectfz.com.
If you want to submit a CV or resume; please go to thetalentpoint.com. And above all, we do not store them.